for ISKCON News on Jan. 29, 2016
Fifteen teenaged youth, aged 13 to 18 and hailing from Australia, New Zealand and Bali, were inspired in Krishna consciousness as they traveled across Australia during their summer holidays this January.
But they also deeply moved and inspired other devotees with their devotion everywhere they went.
The tour, which ran from January 9th to 27th – summer in Australia – was chaperoned by second generation devotees Braja Vallabhi, 21; Rukmini Priya Poddar, 23; Markendeya Rishi, 24; and Nitai Candra, 28.
Braja Vallabhi, a disciple of Indradyumna Swami who has looked after youth on his Polish and Indian festival tours, and has taught children's gymnastics professionally, came on board when Srila Prabhupada disciples Pratapana Das and Jayasri Dasi asked her to get more involved in ISKCON's 50th anniversary activities.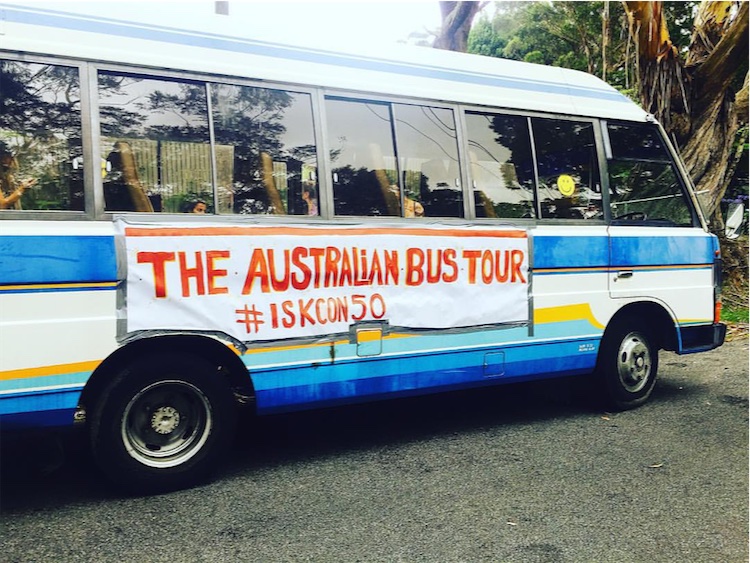 The 'retro-fabulous' bus
"Pratapana and Jayasri are a husband and wife couple who run a very successful preaching center called Govinda's ashram in Sydney," Braja Vallabhi says. "Jayasri is a great mentor for me, and her vision is that ISKCON 50 is not just about celebrating the past 50 years, but about looking forward and celebrating the next 50. And part of that is empowering the youth, and giving them the understanding that Krishna consciousness is fun."
To do this, Jayasri and Pratapana sponsored a bus, and Braja-Vallabhi and her peers agreed to organize a tour.
The trip began in Brisbane, as tour leaders and participants got to know each other with a day of icebreakers and orientation on the Brisbane River at South Bank, a popular tourist destination.
Next, it was on to the 850-acre New Govardhana farm in the picturesque Tweed Valley of New South Wales. Spending nights at the farm, the group ventured out to various places of interest along the Gold Coast during the day.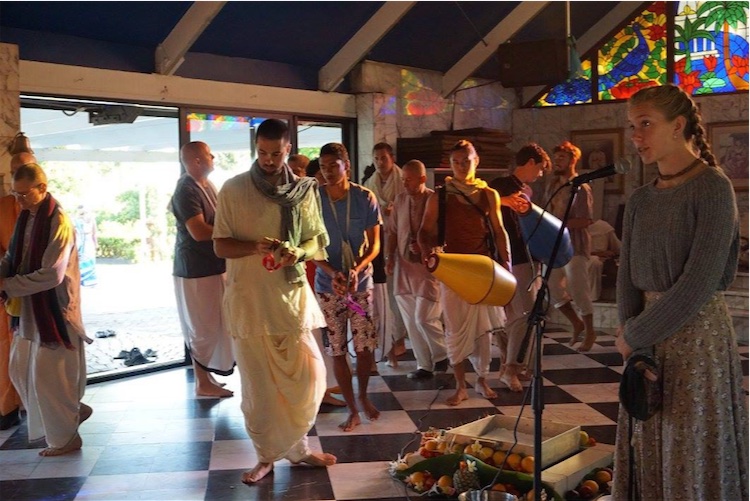 Bus tour youth lead guru-puja at the New Govardhana Farm
They visited the Bhakti Center, a preaching center in Surfer's Paradise. They chanted and danced on the streets with Harinama Ruci, a group of traveling brahmachari preachers. They got an adrenaline rush and defied the laws of gravity at Bounce, a massive indoor trampoline park. They visited beaches and had bonfire kirtans. They saw a natural rock bridge and swam in a waterfall at Springbrook National Park. And they jumped off cliffs at the Yamba rock pools.
Driving on to Sydney, they went sightseeing, did kirtan in front of the famous Opera House and Harbor Bridge, and had fun playing laser tag. At Sydney's Radha Gopinath temple, they performed their play about the soul's journey back to Krishna, "Under the Influence," and sang a song they had written themselves about ISKCON 50.
"The lyrics talked about how Srila Prabhupada came to the West fifty years ago, and how now we're 'traveling down the East Coast in a bus that's too retro to even own,'" Braja Vallabhi laughs. "The chorus was 'ISKCON 50.' It was awesome!"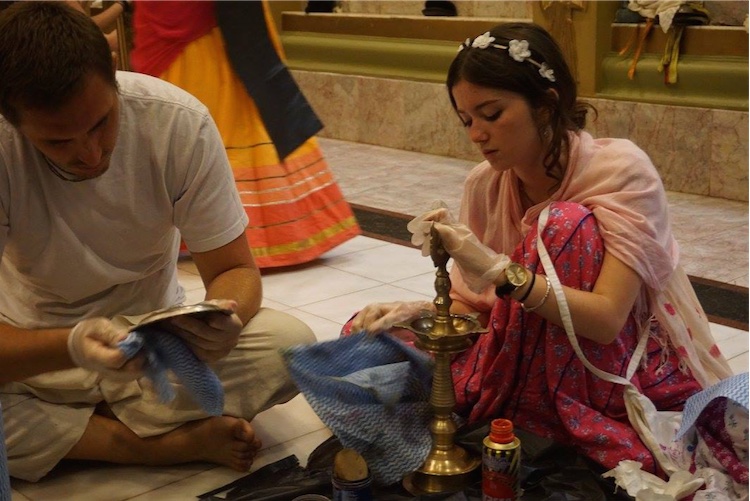 Cleaning the Lord's paraphernalia at Sydney temple
ISKCON's 50th anniversary was a key theme of the tour, with youth telling everyone they met about Srila Prabhupada and the history and activities of ISKCON.
"Once while we were driving, the people in the car next to us spotted the handmade sign on our bus that reads 'The Australian Bus Tour' and '#ISKCON 50,'" says Braja Vallabhi. "They pulled up alongside us to say hello to the kids, and the first thing the youth told them is 'We're from ISKCON 50.' They really took spreading the word to another level."
After Sydney, the youth visited the ISKCON yoga center Govinda Valley in Oxford, New South Wales, then made their way to Canberra, Australia's capital city.
"There we did Harinama, and checked out the national monuments like Parliament House, the National Museum, and the Australian War Memorial," says Braja Vallabhi. "Then we went to Melbourne, where we performed our play at the temple there. We also saw the Penguin Parade on Philip Island, where the penguins return home at sunset to one of the largest penguin colonies in Australia."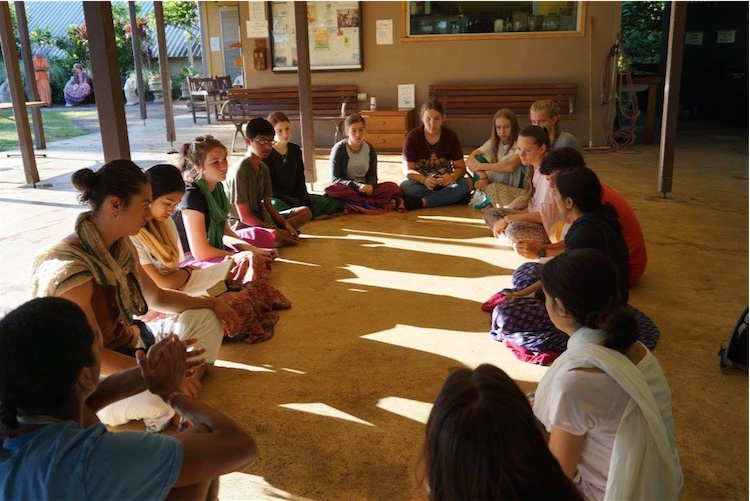 Having a group discussion on the Bhagavad-gita
Finally, the tour returned to Sydney, where they performed a giant Harinama for Australia Day under perfect blue skies.
Throughout the bus tour, the youth were fed delicious prasadam at Australia's famous devotee-run restaurants, and stayed at ISKCON temples and centers along the way. At each temple, they attended Deity Greeting and Guru Puja at 7:00am, despite the challenges of usually only having one bathroom for dozens.
Although many of the youth started the tour shy and reserved -- never having led a kirtan before -- they were soon all taking turns leading one verse each. At temples, some got up at 4:00am for mangala arati of their own accord. Others enthusiastically did service: at ISKCON Sydney, they fixed the Tulasi House, cleaned the entire temple room and polished all the Lord's paraphernalia. And out on the street, with the strength of numbers, they threw their inhibitions to the wind, whether chanting in a Harinama or just spontaneously breaking into a bhajan number while sightseeing.
"Because it was our first time doing a bus tour here, the temples didn't know what to expect from a bus of twenty kids rocking up to their door," says Braja Vallabhi. "But local devotees ended up extremely impressed and overwhelmed with what they saw. They all said they'd love to have more kids around, and asked us to please keep in touch, and to do this more than once a year."
Meanwhile parents had tears in their eyes as they watched their children lead kirtan for the first time, and break out of their shells with their devotee peers.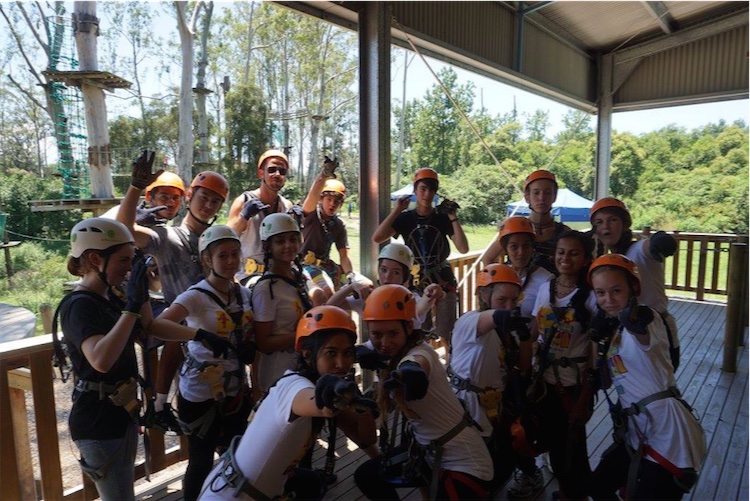 Getting ready to go high-roping
"A lot of parents messaged us back going, 'I don't recognize my child!'" Braja Vallabhi says.
Many youth surprised themselves too, saying things like, "I never thought I would dance and chant in the street, but I did, and it felt really good."
All had a great time and developed close friendships that will likely last long into the future. These peer devotee friendships are also likely to keep them attached to Krishna consciousness.
"On the tour, rather than being told what to do by their parents, they're being inspired and encouraged by their peers," Braja Vallabhi says. "And that's much easier to digest and hear. I think it's important for them to have this experience without their parents – where they're accepting Krishna consciousness because it's their own choice, not because someone's telling them to do it."
With the success of this January's tour putting the program in huge demand with parents, the Australian Youth Bus Tour is now set to become an annual fixture. But Braja Vallabhi's not satisfied with that alone.
"With this tour now done, mother Jayasri, Pratapana Prabhu, Nitai Candra and myself are going to sit down and have a chat about our general vision for the ISKCON youth in Australia," she says. "The younger kids have Sunday School, and a lot of the older youth have engagement. But there's often not much to do for this age group of 13 to 18. So as well as the annual bus tour, we'd like to have separate boys' and girls' trips like they have in the U.S., weekend programs, kirtan festivals, and much more!"
[
australia
] [
bus-tour
] [
youth
]