on Nov. 13, 2021
Sanka Das, a disciple of Srila Prabhupada known for his compassionate and giving nature, his cooking and gardening, his smile, and his "huge heart," passed away peacefully on the auspicious day of Govardhana Puja, November 5th, in Alachua, Florida. He was 73.
Sanka left during the Brahmamuhurta hour of 2:50am while looking at a picture of Srila Prabhupada, listening to Prabhupada's lectures and Aindra Das's kirtan, and holding japa beads in his hands. A Vietnam war veteran, he had been exposed to Agent Orange during his years of active duty, and had battled cancer for a number of years. He will be remembered by his three children, grandchildren, and the many devotees whose lives he touched.
Sanka's Life of Service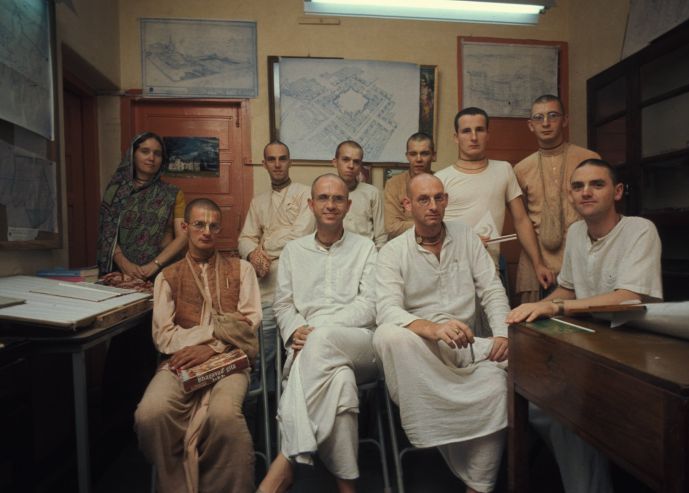 An entry from Prabhupada's Pioneers: Spiritual Journeys of His Disciples of New Raman Reti, compiled by Sri Devi Dasi, details Sanka's life of service:
"After three military tours in Vietnam as a photographic interpreter, Sanka Dasa returned to his hometown in Worcester, Massachusetts in 1969. Sometime later in 1971, his brother, who was living at the Boston temple, gifted him a KRSNA Book and four pictures of Lord Vishnu. Three days after reading the book, Sanka joined the Boston temple. Thinking he was "fully surrendered" at the time, he spent the next three months in full-time service at the temple. After this initial stint in devotional service, material desires re-surfaced, and he decided to leave the temple and hitchhike/adventure across the country.
After some time, he ended up at the San Francisco temple, where he helped Jayananda Dasa build the Ratha Yatra cart. He spent some time at the Maui, Hawaii temple in 1972, and then came to the Laguna Beach temple in California in 1973. At that time, he felt truly "fully surrendered," and took initiation in May of that year. That same year, Sanka offered a box of organic vegetables to Srila Prabhupada in Los Angeles. In turn, Prabhupada gave him his first instruction: "You must go to Mayapur and make gardens." Sanka immediately went on traveling sankirtana to raise money for Mayapur.
In 1974, he was at the first Mayapur Festival. There, he was given hundreds of acres to cultivate. Sometime later, Srila Prabhupada sent him to the Bombay, Juhu temple, where he also started cultivating gardens. Daily, Srila Prabhupada would watch him from his balcony and would accept a flower from his garden. It was in Bombay that Sanka also acquired most of his famous cooking skills. He helped cook the first offering at Vrindavan temple in 1975, and in 1976, the first offering at Hyderabad and Bombay."
Srila Prabhupada's Flower Boy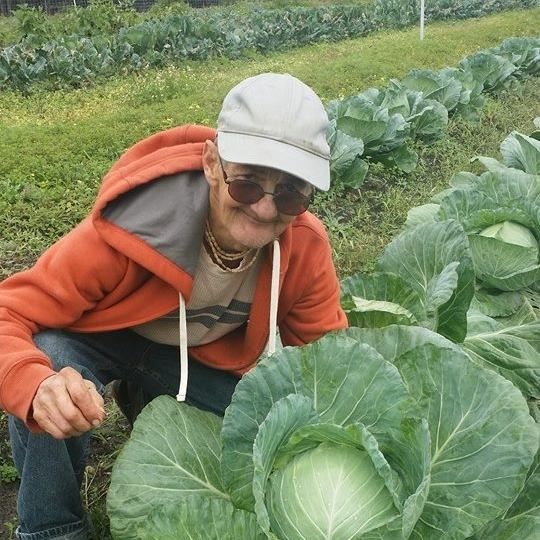 In his book "I'll Build You a Temple: The Juhu Story," Giriraja Swami recounts how Srila Prabhupada summoned Sanka to Bombay. Sanka asked Prabhupada, "What would you like me to do?" And Prabhupada replied, "I want you to plant a flower in every square inch of Hare Krishna Land."
Prabhupada would pass by the garden every day on his morning walk, and some time after Sanka's arrival, when Prabhupada noticed there still weren't any fruits or flowers growing, he commented, "He's simply bluffing." But one morning, after Prabhupada had returned from traveling in India, he went out for his walk and saw that the garden was full of fruits and flowers. He was very pleased with Sanka's service, and thereafter, Sanka would offer Prabhupada a flower every day and became known as "Prabhupada's flower boy."
Elsewhere in an article for New Vrindaban's Brijabasi Spirit, Sanka remembered serving Srila Prabhupada during this period. "Every day, I used to make a flower garland and give it to him for Guru Puja," he recalled. One day, after being chastised by his spiritual master for a mistake, Sanka felt so disheartened that he did not give Srila Prabhupada a flower garland that day. Instead, he asked another devotee to give the garland to Srila Prabhupada. Noticing Sanka's absence, Srila Prabhupada immediately asked, "Where's my flower boy?" The next day, Sanka happily resumed his service.
1976 – 2011: A Variety of Services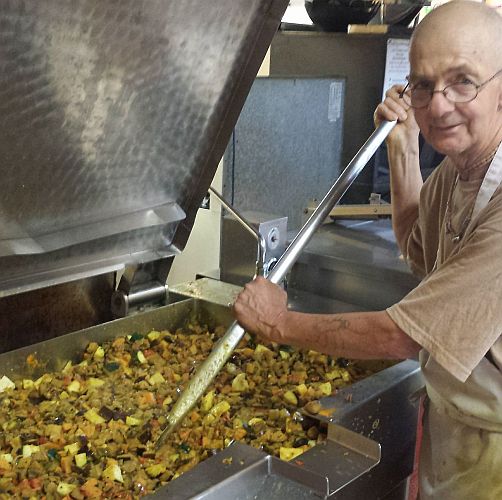 According to "Prabhupada's Pioneers" compiled by Sri Devi, in 1976, Sanka was then sent to Hyderabad, where he became the head pujari.
"There, he raised money to buy material and to design top-of-the-line outfits for all the deities, which Srila Prabhupada deeply appreciated.
In 1978, he spent some time at the ISKCON temple in Sweden, and then Geneva, Switzerland. In Geneva, he cooked for the first Ratha Yatra parade, the first parade ever in Switzerland. A bit later, Sanka was sent to the New Varsana community in Colorado. There, he married Saci Devi Dasi, and eventually they had three children. Subsequently, Sanka served at Denver and San Diego temples.
In 1996, he moved to the New Goloka community in North Carolina, where he helped Locana Dasa make 54 Prabhupada murtis, most of which were sent to former Soviet countries. In 2001, he moved to New Vrindaban, and in 2011, to New Raman Reti."
Later Years in New Raman Reti, Alachua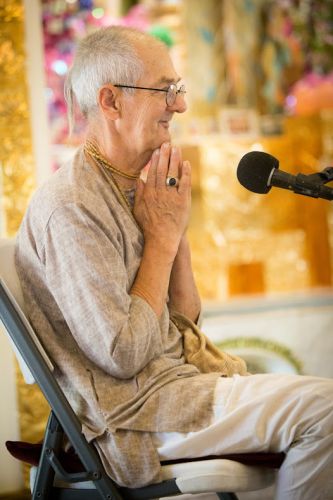 When he got older and couldn't tolerate the cold of the New Vrindaban winters, Sanka Das moved to Alachua, Florida where he lived for over a decade. According to Sri Devi of "Prabhupada's Pioneers" and Madhurya Lila Dasi of Alachua's End of Life Care program, Sanka was in charge of cooking Sunday Feasts at New Raman Reti, cooked for the Santa Fe lunch program, and assisted gardener Janamejya Das in cultivating the temple's organic gardens. He also wrote two cookbooks, entitled Simple Vegetarian Cooking – Indian-style and Italian-style.
While in Alachua, Sanka developed a strong relationship with many gurukulis there, attending their get-togethers and birthday parties, helping with and supporting their efforts such as booths at the local farmer's market, and assisting Radha Kunda Dainton with her "Radha's Kitchen" prasadam business. Even when he could no longer physically work, he still continued to help Radha Kunda plan her menu items.
"Sanka Prabhu felt that cultivating a good friendship with the gurukulis and the younger generation, and showing them love, was the best way he could serve Srila Prabhupada's mission," says Hamsa Havlik, a gurukuli who served as a medic in the army, and bonded with Sanka over their shared status as veterans.
Returning his love, second generation devotees treated Sanka like their grandfather, and played an active role in his care when he became a hospice patient. Hamsa, who works as a Medical Tech at the Veterans hospital in Gainesville, took Sanka into his home and cared for him, creating a spiritual atmosphere where devotees came regularly to chant and read to him.
"I was taking care of Sanka Prabhu physically, but spiritually, he was taking care of me," Hamsa comments. "It was a powerful experience."
Now, in Sanka's absence, Hamsa remembers his many wonderful and endearing qualities:
"He was very giving, he had a huge heart, he was always smiling, and he loved to hug people," Hamsa says. "He was very compassionate and empathetic. And no matter what, he always would find ways to bring conversations back to Yogesvara, the Supreme Mystic. He loved to see the mystical wonder of Yogesvara everywhere around him, every day.
"The first time I ever met him, he came up, gave me a big hug, touched my kids' heads, and said, "Krishne matir astu" – 'may you always remember Krishna.' He always gave that blessing to people.
"He loved cooking so much. He was very humble, and would always glorify Srila Prabhupada unconditionally. But anytime anything was said in praise about him, his mood was, 'Who am I? Srila Prabhupada is the general. I'm just a sergeant.'"
[
obituary
] [
sanka das
]