for ISKCON News on May 7, 2015
Sivarama Swami's "Krishna in Vrindavan" book series has been recently released in e-book format. The series consists of four books – the Venu-gita (VG), the Na Paraye 'ham (NPH), the Suddha Bhakti Cintamani (SBC) and the Krishna-sangati (KS).
Venu Gita is a wonderful book of Lord Krishna's transcendental pastimes for all audiences. It is filled with delightful descriptions of the land of Vrindavan and the pastimes of its inhabitants, the beauty of Sri Krishna, the forest of Vrindavan, glorifications of His most beloved Radharani and His dear servant Giriraja, talks between Srimati Radhika and Her gopi friends, and much more.
Based on the commentaries of Srila Prabhupada and the previous acaryas. Na Paraye 'Ham explains some of the principles of transcendental love – describing Sri Krishna's love, Sri Caitanya Mahaprabhu's love, and Srimati Radharani's love, respectively. Their love flows like great rivers into the ocean of prema, and by the mercy of our predecessor acaryas, devotees can touch the shores of that ocean and savor some drops of its nectar.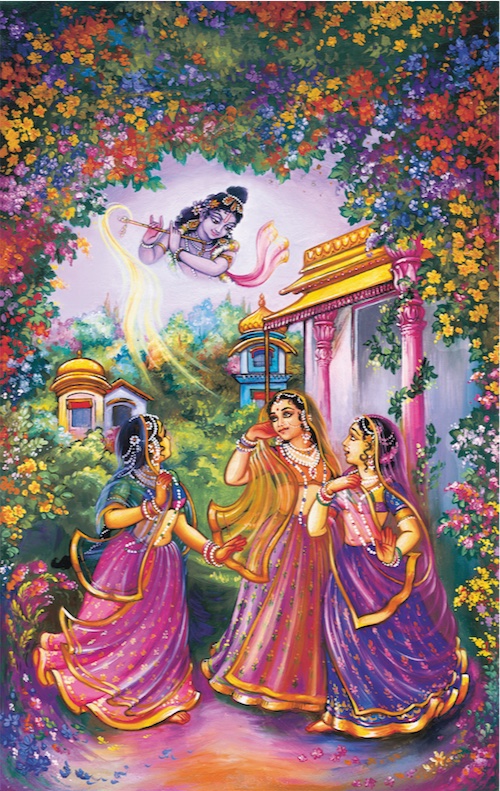 The Venu-gita's cover artwork
Krishna-sangati is the third volume of the Krishna in Vrindavan series is replete with the pastimes Lord Krishna manifested five thousand years ago. The focus of Krishna-sangati is how during these pastimes Krsna repeatedly leaves and then again meets the residents of Vrindavan. Devotees always want to meet Krishna, but to increase their bliss and their love He repeatedly separates from them. That is His mercy. However when the Lord and His pure devotees meet after extended periods of separation they both taste the happiness of samaddhimat-sambhoga. But whether in separation or meeting with Krishna, His associates always bathe in transcendental ecstasy. Sivarama Swami brilliantly weaves the different commentaries that the acaryas have written on Lord Krishna's pastimes with verses from sastra into an absorbing transcendental narrative.
In Suddha-bhakti-cintamani, Sivarama Swami is making a major statement to the devotees of ISKCON as he traces the progression of faith, attraction, and devotion through regulated devotional practice. What he says here is invaluably useful for all who have strayed from Krishna and are serious about going back to Him. He explains how the adhikaras for various depths of hearing krishna-lila are acquired in the course of this standard cultivation. In this way he gives us the information we need to decide for ourselves what we are ready to hear and speak about. And he does this with strict adherence to guru, sastra, and sadhu.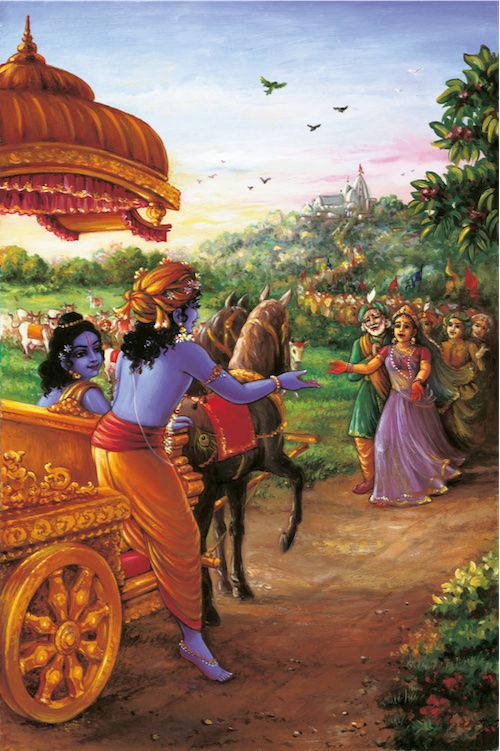 Artwork on the cover of Krishna-sangati
The e-books could be purchased here:
US iTunes store: (these books are available on every iTunes store but the links here are pointing to the US store)
VG
Amazon.com:
Kobo:
VG
Barnes & Noble:
KS
Google Play:
e-books
] [
sivarama-swami
] [
suddha-bhakti-cintamani
]