for ISKCON News on Feb. 24, 2018
When photos started cropping up of the Radhadesh Mellows Kirtan festival in Belgium this January, one thing in particular caught devotees' eyes.
Towering behind the kirtaniyas was a thirteen by nineteen foot acrylic painting on wooden board, depicting Lord Nityananda dancing in the moonlight, draped in blue silks and garlands and glowing in the dusky purple haze.
Stunned and deeply moved by the beauty and mood of the image, many around the world commented on Facebook photos of the painting, calling it "breathtaking" and "gorgeous," and asking who the artist was.
Kardami Kapila Das (Ernaste Nasimo) is the man behind the work. Born in 1979 in a small town in Bulgaria, he became part of the skateboarding community growing up, and had a very different lifestyle from the one he would later find.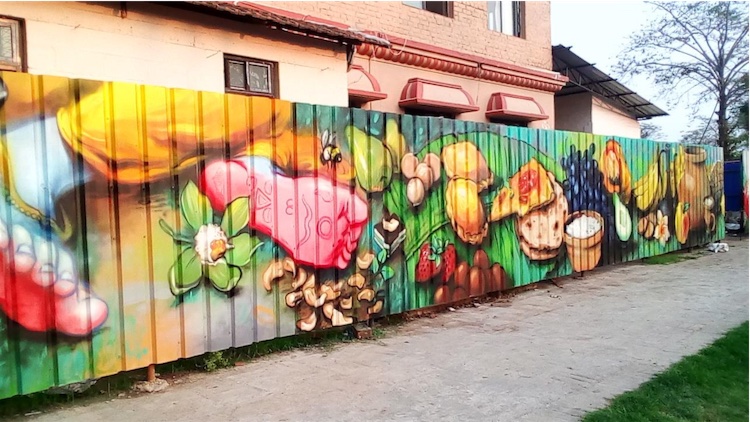 A picnic for Krishna and the cowherd boys transforms a simple fence in Mayapur
"I was a wild boy, and there was a party almost every night," he recalls. "Me and my friends would go out and spray illegal graffiti on people's property and on the trains. But the graffiti did ignite in me a passion for art."
Not content to simply spray letters on walls, young Nasimo went to university to study fine arts and develop his skills in different painting techniques and with different subjects.
After university, orders for his canvas paintings and murals began to flood in, and Nasimo worked both solo and at group exhibitions. Along with his success and involvement in the graffiti and art scene, however, he found himself indulging heavily in parties, alcohol, drugs and sex.
"But somehow I became disappointed in all of this, and was trying to find meaning in life," he says. "Little by little, I began to explore different spiritual doctrines, until I met Hare Krishna devotees. One year later, I decided to try to follow the process of Krishna consciousness."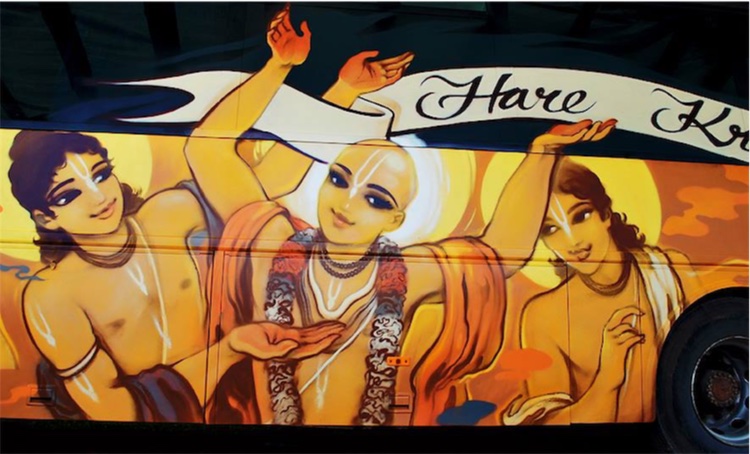 Chaitanya Mahaprabhu and his Harinama party on the side of a sankirtan bus in Eastern Europe
Today, Kardami Kapila Das still makes a living from both contemporary figurative art and street art, working out of his own studio in Sofia, Bulgaria and selling to a variety of different clients – one of his recent efforts is a giant two-storey mural of a traditional Bulgarian maid carrying bread on the façade of the Sun Moon bakery in Sofia.
Kardami's art also appears at all the major street art events across Europe, such as his recent exhibit "There is Light" at the Urban Creatures festival. He has published two books of his art, 'Napalm Graffix' and 'A Graffiti of Cats,' and created his own clothing line with hip-hop artist Gerata.
The influence of Vaishnava or Vedic culture is evident in much of his professional work. His Bulgarian maid on Sun Moon Bakery features a mandala on her apron; his 'There is Light' exhibit shows people throwing their arms to the sky much in the manner of Lord Chaitanya, some of them wearing japa beads around their necks; and his clothing line is called "Goloka."
But his heart is with his overtly Krishna conscious art, which has appeared around the world and deeply inspired many.
Kardami Kapila Das creates a painting of Lord Krishna for ISKCON 50 at Bhaktivedanta Manor
"After joining ISKCON I almost stopped painting, but I realized I was repressing my ability and desires artificially," he says. "Finally while I was completing a bhakti shastri course in Mayapur, I felt myself about to go off like a bomb. After my exams I went straight to Gouranga Simha Prabhu and Ganga Prabhu, and they loved my idea to do some murals in Mayapur. They found all the materials for me, and I started doing art again, this time dovetailing my desire for Krishna."
In Mayapur, Kardami's uniquely sweet paintings of Sri Krishna and Srimati Radharani brighten the facades of formerly unremarkable buildings. His depiction of Krishna's lotus feet next to a sumptuous picnic for the cowherd boys turns a walk down a side street into a blissful meditation. And his giant painting of the Vedic cosmology from the cover of the first canto of Srimad-Bhagavatam transforms the Ishodyan building used during the annual International Leadership Sanga.
His other work includes Lord Chaitanya's sankirtan party on the side of a traveling Harinama bus in Eastern Europe; paintings of Radha Krishna for the ISKCON 50 celebrations at Bhaktivedanta Manor, UK; and murals of Krishna and the gopis at Krishna Balarama Mandir in Vrindavana, India. All are bright, colorful, masterfully executed and so charming and real that you feel like they are there with you. Then there is, of course, the recent painting of Lord Nityananda at Radhadesh Mellows.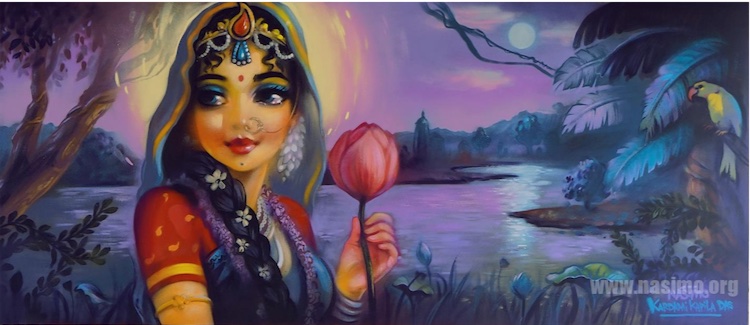 Srimati Radharani, comissioned for Bhaktivedanta Manor
"In that painting, Lord Nityananda is coming down into the dark material world, appearing with the full moon and showing us fallen souls what real love and bliss means," Kardami Kapila explains. "I was trying to portray Him in a moment of dancing in full ecstasy and bliss. I also tried to give the feeling that He is there, part of the assembled devotees, enjoying the kirtan."
Kardami has also illustrated a comic book, 'Narasimha: Demon Slayer,' and his Krishna conscious artwork has been purchased by many, both devotees and the general public. Young devotees in particular appreciate and are inspired by his street-style art, he says.
"I love doing spiritual art because it brings me closer to Krishna," he says. "At the same time, what I realize in the process is that I have a lot of work to do on myself."
In the future, Kardami Kapila hopes to get more devotee clients who are ready to support the creation of large oil canvasses and murals depicting complicated and ambitious pastime scenes.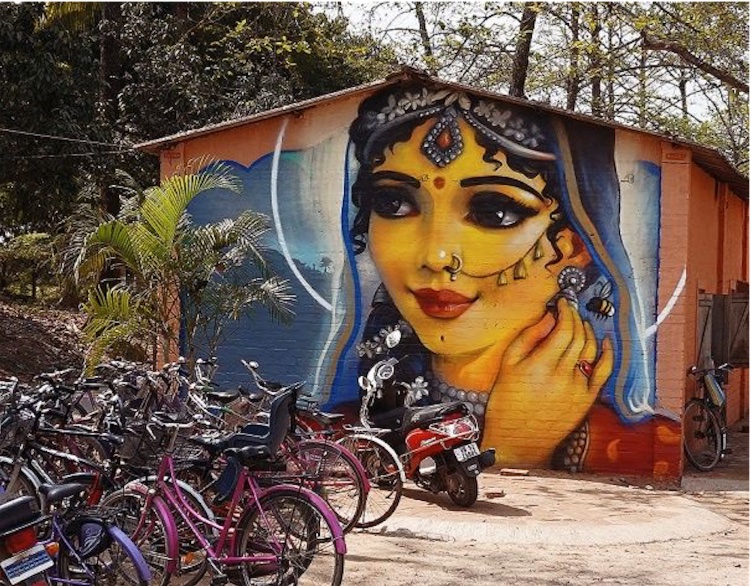 Srimati Radharani on the wall of a building in Mayapur
"Old masters like William Bouguereau understood very well the meaning of art – and that is to elevate mankind's consciousness to the point of spiritual consciousness," he says. "So my plan is to try to do something as good as the level of the great masters, but in connection to Krishna."
[
art
] [
drawing
] [
grafitty
] [
painting
] [
wall
]