Krishna's People (Gente di Krishna), a new online talk show in Italian, gives voice to the devotee majority in Italy – those who live regular lives working, studying and taking care of their families, while incorporating Krishna consciousness.
The program, hosted by Villa Vrindavana temple president and Italian Communications Director Parabhakti Das, takes place live on Zoom every Friday at 7pm Italian time, and is broadcast to platforms like Facebook, Instagram and Youtube. It is viewed live by about 35 to 50 people, and 50 to 60 the next day, and aims to reach newcomers as well as devotees.
As the pandemic first set in during March 2020, Parabhakti began offering online programs for the Italian congregation, reading and chanting together and taking questions, so that people from across the nation could connect with others and have some Krishna conscious association.
When Italy went into another strict lockdown in October 2020, Parabhakti again began looking for new online concepts to serve the community, and came up with the idea for Krishna's People, which launched on December 4th, 2020.
"Immediately, we had a lot of success, because people could identify with it," he says. "We normally have many talks from gurus, senior devotees, and preachers who live in or close to the temple, but we don't give enough space to people who are the majority, who are living in society. They just listen to the others – they are never the protagonists. So this was a way to give them a voice."
Parabhakti also consciously invited a woman to be his first guest. "That was a clear message – we give lots of space to women on the program, because they are not often the protagonists, they don't have the same opportunity," he says.
Guests on Krishna's People are from all over Italy (along with Italians living abroad), and are of all ages and professions. Some of those featured so far have been school teacher Maery, financial advisor Fiorenza, massage therapist Krishna Kanta Dasi, manager Jyotimayi Dasi, waitress Melissa, graphic designer Paolo, personal assistant for VIPs Massimo, former policeman Gaura Karuna, and engineer Purandara Misra, his wife English teacher Sri Saci, and their family.
Parabhakti begins each interview by asking the guests – some of whom are new devotees, and some of whom have been practicing bhakti for many years – how they joined Krishna consciousness, a story viewers love to hear.
He then asks them to share something about their life – for instance, what job they do or what they study; if they are married and have children – and how they balance their busy lives with their spiritual practice, or sadhana.
Talk also touches on how many rounds interviewees chant, and when they fit chanting into their busy work and home lives. "Some wake up very early and chant all their rounds," Parabhakti says. "Others chant part of their rounds in the morning, and more during a midday break or in the evening. Everyone is doing it in a different way, but the goal is the same. They are trying to put spiritual sadhana in their life, while at the same time dealing with all the expectations of work, family, children, etc."
The idea, Parabhakti explains, is to show viewers – many of whom are new devotees or complete newcomers – that other Hare Krishna devotees are going through the same life challenges they are.
"The audience thinks, 'Oh these people are like me. We are talking the same language. So if they can do this, maybe I can too. I don't have to give up everything to be like the devotees. I can continue my life, but add Krishna consciousness.'"
In addition, during the program, Parabhakti answers interviewee's questions about Krishna consciousness, focusing on practical application rather than deep philosophical discussion.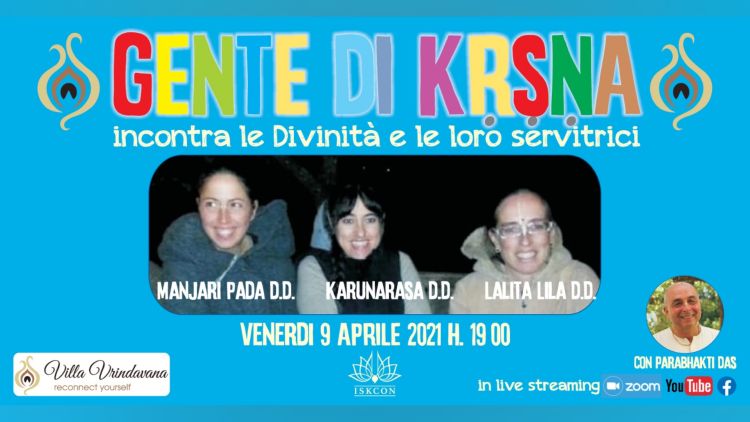 He has also interviewed a handful of full-time temple resident devotees to give his audience a glimpse of that life. Recently, Krishna's People featured Goshala manager Vanamali Das, his wife Tulasi Bhakti mata, and Bhakta Roger, who care for the cows at Villa Vrindavana. Also interviewed were Villa Vrindavana head pujari Karunarasa Dasi and pujaris Lalita Lila Dasi and Manjari Pada Dasi.
"We want to show our viewers that people like them decided to change their life, and are now serving the Deities 24 hours a day, practically speaking," Parabhakti says. "That's inspiring for them. After the pujari episode, many people felt closer to the temple, and were asking how they could apply deity worship better in their own lives."
Since the early days of ISKCON and even up to this day, Parabhakti says, many people have thought that to become a Hare Krishna devotee, one has to leave everything and move into the temple. But coming across "Krishna's People" has helped them realize they don't have to.
"I am in contact with one man who is a professional musician in a symphony orchestra," says Parabhakti. "Forty years ago, he spent two days in the temple. At that time, the mood was, either you're in the temple, or you're outside. He felt that he couldn't just leave everything, so he just lived his life and didn't get too close. But when we started Krishna's People, he came across it and saw that so many people are living a completely so-called normal life, while practicing Krishna consciousness, and he became more and more interested. Now, after forty years, he's chanting japa, and plans to visit Villa Vrindavana."
Krishna's People, according to Parabhakti, helps such people feel more cared for and recognized, which builds a relationship.
Many then begin to attend other online programs on Villa Vrindavana's social media channels, ask questions, learn more about Krishna consciousness from the temple's Youtube channel Vaishnava Culture and start to practice bhakti. Some then take online courses run by Italy's Office for Congregational Development, and attend programs at the Villa Vrindavana temple – which, like other temples and churches in Italy, is now open with safety protocols such as masks and social distancing.
"Seeing that we are giving space to people and taking care of them is really giving them life," Parabhakti says. "They really appreciate it."
Watch Krishna's People live (in Italian) here: https://www.facebook.com/villavrindavanaiskcon
[
italy
] [
online-education
] [
parabhakti
] [
villa vrindavana
] [
villa-vrindavana
]