With different countries around the world at different stages of COVID-19 precautions, ISKCON Mayapur has introduced its own safety measures for visitors, community devotees, and stranded foreign devotees.
ISKCON's headquarters in West Bengal, India has announced that starting from March 19th, temple darshan times for visitors will be restricted to 10:00am to 1:00pm and 5:00pm to 7:30pm. Arrangements will be made so that the visitor line will enter the Mayapur campus, take darshan, and then immediately exit the campus. Other than the designated route, all other parts of the campus will be off limits for pilgrims.
In addition, all pilgrims and visitors will be thermal scanned as they enter the campus, and will be subject to compulsory disinfection before entering the temple. Only packed prasadam will be made available to visitors.
The temple room will be barricaded to keep a safe distance between visitors and community devotees; the temple hall walls and floor will be washed twice a day with disinfecting soap and water; and permanent soap dispensers will be installed in all hand washing areas.
Mayapur guesthouses will stop accepting any new bookings for guest rooms until April 15th, and all existing bookings after 21st March will be cancelled.
Special measures are also in place to care for community devotees.
"Community devotees who wish to visit the temple are strongly advised to visit at the time when the temple is restricted for visitors," an official announcement on Mayapur.com reads. "However, they will not be stopped if they want to visit the temple at other times at their own discretion."
Devotees have been requested to stock enough essential food and medicine to last them for two months, and to contact Krsna Vijay Das if they need specific food items in bulk quantity, and Santhanu Das if they need medicines that are not available in the pharmacy.
All previous advisories related to immunity boosting, hand washing, social distancing and avoiding congregating remain valid. The elderly and vulnerable have been advised to take advantage of temple programs through the website https://www.mayapur.tv/.
Any community members returning back to Mayapur after traveling anywhere in India or overseas are asked to report to the MCS office (Mayapur Community Sevaks) immediately and keep themselves in a fourteen-day self quarantine.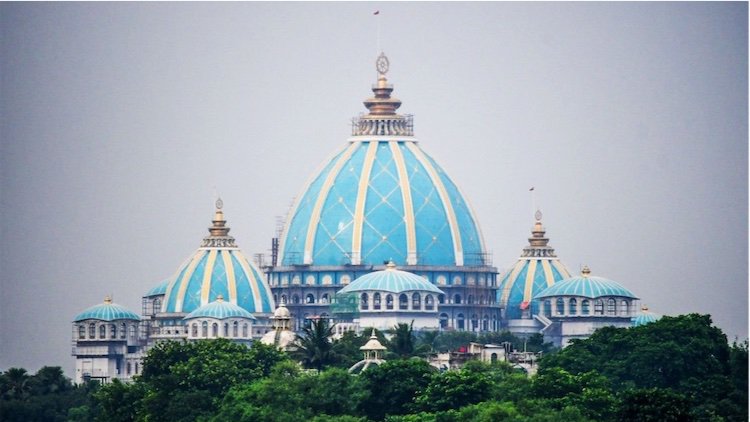 Finally, management has announced that any foreign devotees who are stranded in Mayapur and are unable to travel back to their home countries due to air travel restrictions can approach the Gada Bhavan guesthouse reception to get rooms at a discounted nominal price. They can also get prasadam coupons from the Gada kitchen, and receive regular prasadam meals there. The Mahaprasadam and Govinda's prasadam venues will also remain open to serve devotees as long as they are not mandated by the Government to close.
Over at the Temple of the Vedic Planetarium, construction will continue apace, with many new precautions in place for worker safety and hygiene, so that the temple can still open in 2022.
Meanwhile chairman Ambarisa Das has requested Mayapur priests to do a daily Nrsimhadeva puja for the protection of devotees around the world.
"Lord Nrsimhadeva is worshipped for three reasons – to protect the devotees, to protect the mission, and to protect the guru," say twin Mayapur priests Jananivasa Das and Pankajanghri Das. "So we are praying every day that Lord Nrsimhadeva will protect everyone, that the virus may soon be gone, and that service can go back to normal."
TOVP Fundraising Director Braja-Vilasa Das advises devotees to follow all government precautions, take care of their health, and use the extra time in social isolation to dive deeper.
"Please stay healthy, wash your hands very frequently and regularly, chant extra rounds, and pray to the Supreme Personality of Godhead," he says.
In this connection, he cites ISKCON's Founder-Acharya. "Srila Prabhupada said, 'Health is number one. Chanting is number two. Service is number three. Then comes reading,' Braja-Vilasa quotes. "Health is number one primarily because when it is cared for, we can use our body, mind and words in the service of the Supreme Personality of Godhead, Sri Krishna, without any problems."
[
coronavirus
] [
covid-19
]