for ISKCON News on Oct. 20, 2018
The International Society for Krishna Consciousness (ISKCON), celebrated an annual Mega Youth Fest UDGAAR – "An Expression of Goodness and Joy'', on October 14th, 2018, at the Indira Gandhi Indoor Stadium in Delhi. It marked the initiation of their "Value Awareness Campaign".
Around 6,000 youngsters from across the country participated in the festival.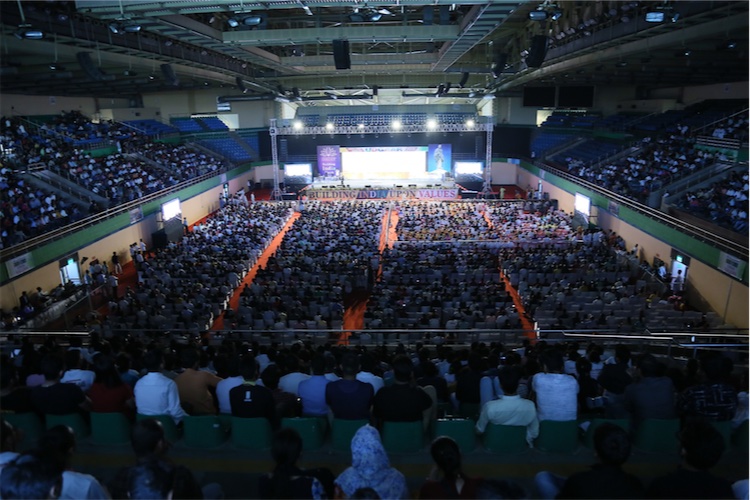 The fully packed stadium
The Union HRD Minister, Sri Prakash Javadekar graced the festival as the Chief Guest. He talked about degrading values in educated youngsters and praised ISKCON's international contribution for bringing youngsters out of addiction, and for being dedicated to spreading values. He also inaugurated "Ethicraft", a club dedicated to training university and school students in cultivation of values.
Eminent educationists such as Dr. G RC Reddy, VC -Sharda University and Dr. Dinesh Kumar, VC -YMCA University, and Mr. Bhupendra Yadav, MP also inspired students to take up values in life.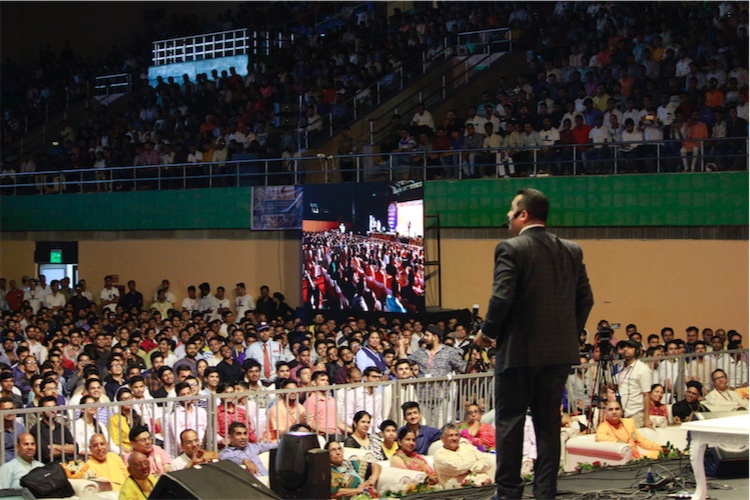 Vivek Bindra on the stage.
Vivek Bindra, the popular motivational speaker and Corporate Coach delivered a keynote speech on values, sharing humorous stories about values and bringing examples from the life of great celebrities like Arnold Schwarzenegger and Baba Ramadev. He quoted many shlokas from Gita, to inspire students in determination, focus and hold high aims in life, and dedicate themselves to achieve those aims.
The aim of the fest was to provide youngsters with a unique opportunity to develop and express their inherent constructive feelings and thereby experience the natural joy of the self. The fest this year is based on the theme "Building India upon values". The focus was to inspire youngsters to contribute towards the social, economic and scientific development of India by cultivating better values in their character and inspiring others in the same direction.
This theme was presented through numerous events such as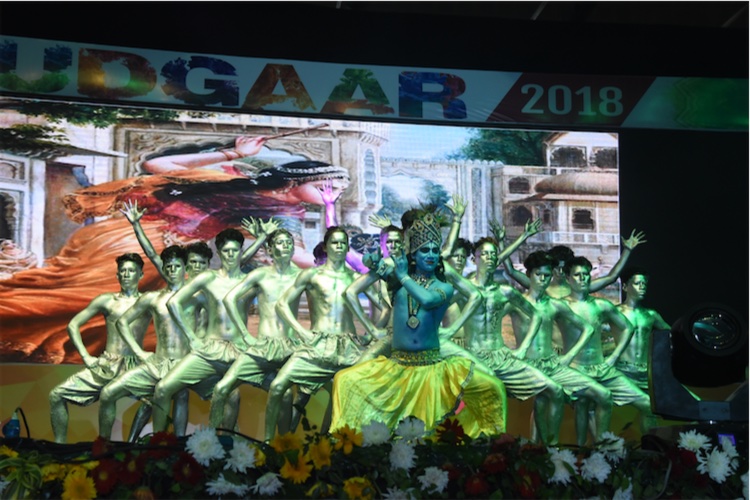 The Dasavatara dance
● Feet Tapping Fusion Musical performance by Madhavas Rock band, which earned fame through 'India's Got Talent' Reality show and were second runners up in season 3.
● Cultural message to students by international ISKCON leaders like Sachinandana Swami from Germany and Guruprasad Swami from the US, and Lokakatha Swami and Gopala Krishna Goswami from India, who are working in the field of value education in Europe, Asia and North America for past forty years.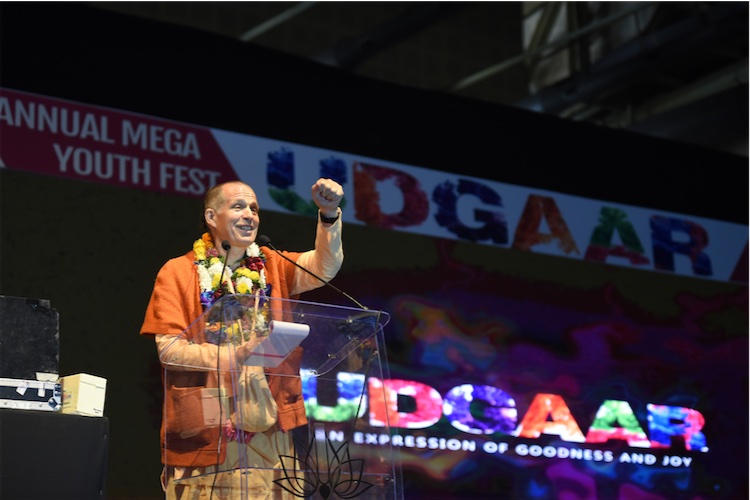 Sacinandana Swami from Germany speask about his experiences
● Mesmerizing Live sand art performance on life and great contribution of ISKCON's founder Srila Prabhupada, by internationally acclaimed sand artist Rahul Arya.
● Enthralling UV Dance performance by 'Prince Dance Group', winners of "India's Got Talent season-1" on values exhibited by national tricolor and on Dashavataar, the forms of Lord Vishnu, each exhibiting a different values such as Character, Chivalry, Patience, Forgiveness etc.
● and a theatrical performance "Asato Ma Sadgamaya- Marching towards Values" by an ISKCON Youth Forum troupe, showcasing the importance of moral values by presenting contemporary global challenges being discussed at a meeting at United Nations.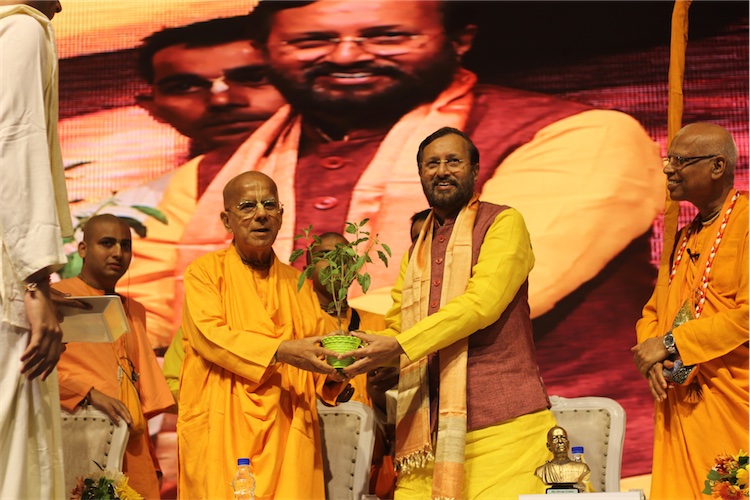 Gopal Krishna Goswami and chief guest Union HRD Minister, Sri Prakash Javadekar.
ISKCON was founded in 1965 by A.C. Bhaktivedanta Swami, with its first objective to 'To check the imbalance of values in life and to achieve real unity and peace in the world'. The festival is a step aligned with this objective.
"From the dawn of human civilization, the importance of Value Education has been realized by pioneers and thinkers all over the world", says Sundar Gopal Das, Director- ISKCON Youth Forum, Delhi, the person who conceived the festival. He further adds, "Value education is also necessary in order to develop the core human values like integrity, honesty, truthfulness, trustworthiness, etc. These are the foundational principles for a peaceful and prosperous society.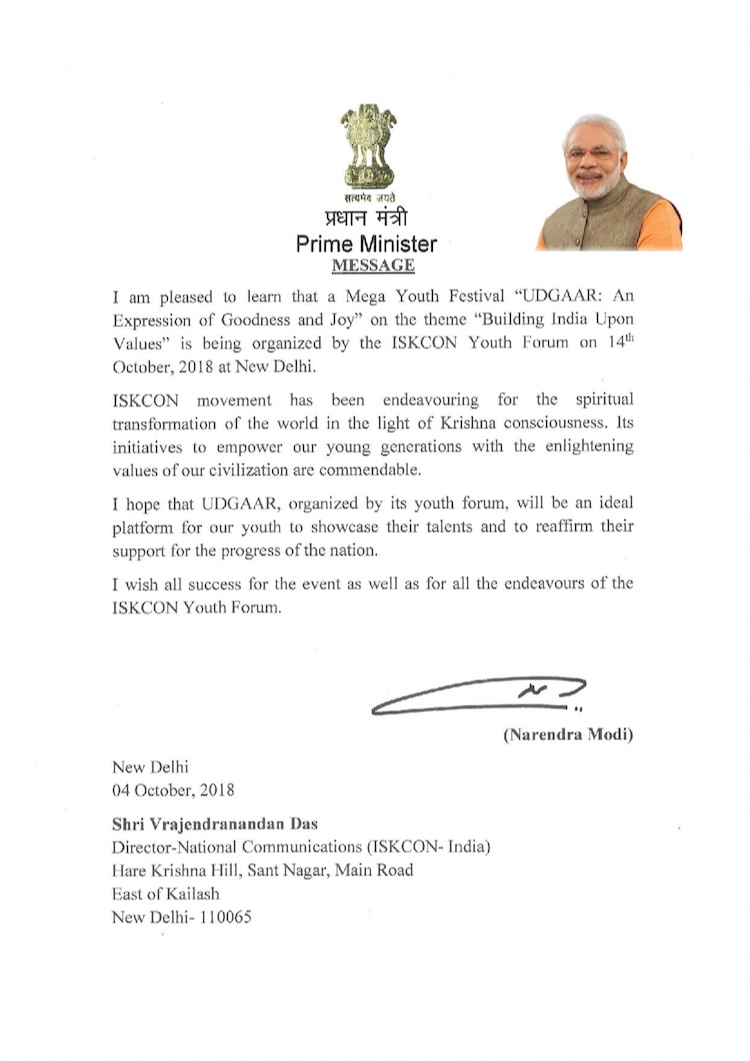 A letter of accreciation from Prime Minister Narendra Modi.
[
delhi
] [
udgaar
] [
youth
]