for ISKCON News on Oct. 12, 2018
On September 27th, 2018, history was created when the first cohort of high school seniors (Year 12) students graduated from the Bhaktivedanta Swami Gurukul in Eungella, NSW, Australia.
The Gurukul, as it is commonly known, is the only Hare Krishna high school outside of India.
Over the past several years, the school has been steadily growing.
The graduation was a true community affair with the entire school and New Govardhana community invited to the graduation ceremony. Proudly flanking each graduate as they made their speeches, the school principal Vinod Bihari das and the New Govardhan Director (President), Ajita das, were prominently present.
Fire yajya with the graduates at the New Govardhan temple
A formal graduation function was also held the same week complete with red carpet, a five-course dinner and live music provided by the devotees of the New Govardhan community.
The Gurukul follows the Australian curriculum that meets all the requirements for a certificate (HSC) course and additionally offers spiritual education studying Krishna-consciousness as well as other religions.
Character development is also given much time and energy.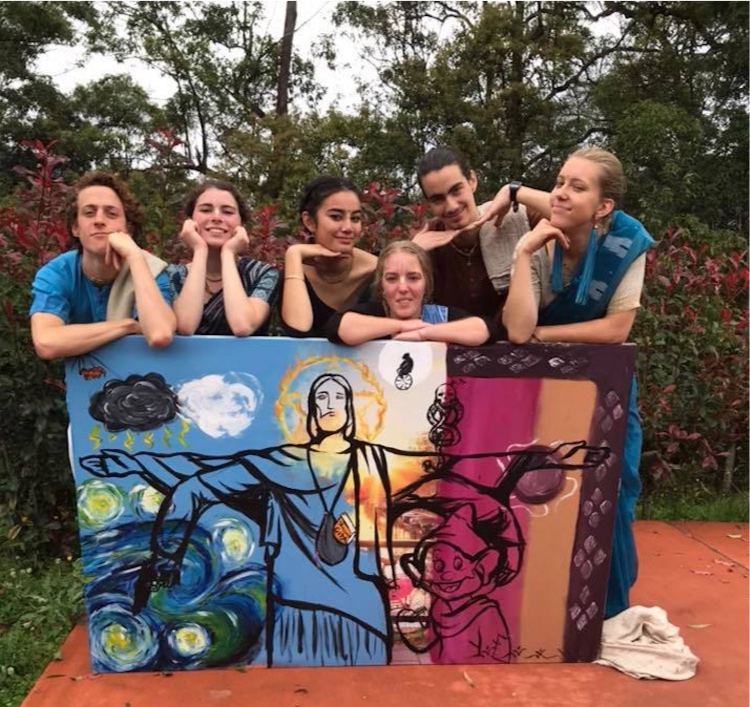 The students with one of their religious studies art projects
Husband and wife team, Syama Sakhi devi dasi and Madhvendra Puri das are the two pillars of support for the high school students. They were positive role models, who have not only been teachers, but friends, carefully nurturing each young adult to become confident contributors to ISKCON and the society at large. They have been fulfilling the role of high school coordinators, and are extremely happy to have played such an important role in the students' lives.
A large regional newspaper, The Tweed Daily News, reported the graduation in a grand manner with a front-page coverage in their publication, with their article written by their Editor-in-Chief, Nikki Todd.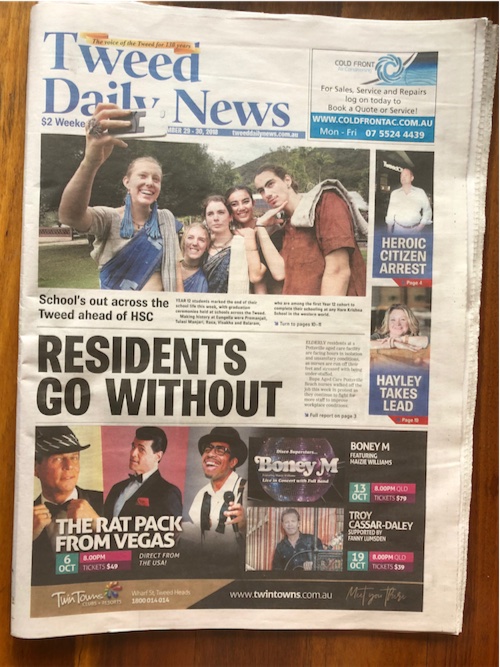 The fron page of the local newspaper
She writes: "While most Year 12 students plan a week of partying at Surfers Paradise to mark the end of their school years, seven students from the Hare Krishna School at Eungella are planning something completely different. Instead of heading to Schoolies, the students will travel to India to take part in a pilgrimage and mark the end of their school life. But don't be fooled. This group of teens is just like any other, with dreams of becoming famous musicians, hosting their own Fortnite YouTube channel and becoming millionaires by the age of 30 all on the agenda."
Read the full article: https://m.tweeddailynews.com.au/news/forging-new-path-from-krishna-school-to-the-wide-w/3536051/?fbclid=IwAR36DTipRvFHkjY-KCZD7DlCKqJ3T0VvEwZnX4R3axvAihsrrvofAEuVSTQ#/4
[
australia
] [
education
] [
graduation
] [
gurukula
] [
youth
]