for ISKCON News on Sept. 7, 2018
It's a bustling evening on Janmastami, Lord Krishna's appearance day, in Village of Vrindavana, a pop-up reconstruction of famous temples and pilgrimage spots at ISKCON of Alachua, Florida. Against the ink-black night sky, ten young women in bright, multicolored costumes are portraying Krishna's rasa dance with the gopis. Their fusion of Bharatanatyam, Oddissi and modern dance puts a cherry on top of the night's festivities, and has everyone grinning and applauding.
The girls – some from Alachua, and some from North Carolina and Chicago, Illinois – are members of DASI, a brand new organization that aims to encourage and inspire young women to use their talents and time in service to Lord Krishna.
It all began when Anasuya Rico, 18, grew out of Kishori Yatra, a tour which takes girls aged 11 to 16 around North America for service opportunities and bonding fun.
"Kishori Yatra was such an amazing experience for me – it helped me grow spiritually and mentally, and I got to meet so many incredible people," she says. "I was praying that by the time I graduated from it, there would be another program that allowed girls my age to keep traveling, serving Krishna and giving back. Then I realized, if we all waited for someone else to start it, it was never gonna happen."
With encouragement from Manorama and Jaya Sri Radhe of ISKCON Youth Ministry, Anasuya decided to head up the project. Gathering similar-minded girls her age, the group created DASI.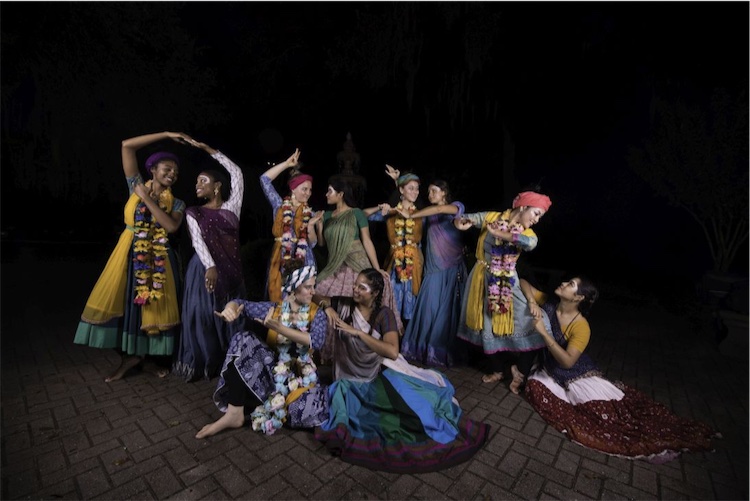 DASI members perform a fusion dance on Janmastami in Alachua
For the first time in the summer of 2019, these ten talented and dedicated young women will travel in a van across North America for two months.
Starting at Atlanta's Panihati in early June and ending at Los Angeles Rathayatra in August, they will offer their artistic skills to Rathayatras and other ISKCON festivals around the country, following the Festival of India tour closely.
"We want to bring new energy to make the festivals as attractive as possible both for devotees and for passersby, to really draw them in and show them how beautiful our spiritual culture is," Anasuya says.
One of the ways the girls hope to do this is by wearing matching devotional outfits and serving as coordinated dancers in front of Lord Jagannath's Rathayatra cart.
They are also currently putting together a full-length drama for the tour, which is structured so that it can be broken down into shorter vignettes according to each festival's needs. The play will likely be about Lord Krishna's relationships with His devotees, with each vignette focusing on a different "rasa" in which one can relate to God – as a servant, friend, parent, lover, etc.
Meanwhile Madhuri Fitch and Gayatri Katwani, two expert Bharatanatyam dancers who have practiced the art since the age of six years old, are choregraphing two new fusion dances. Other DASI members will provide henna and gopi dot decorations for festival attendees.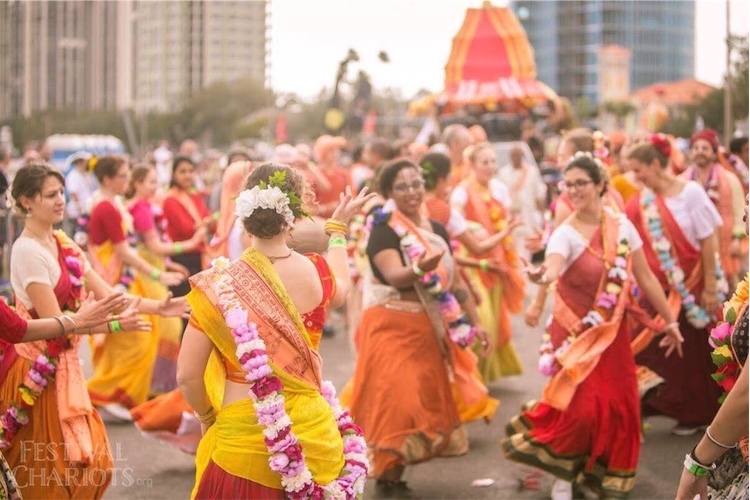 DASI members will serve temples and Rathayatra across North America in a variety of ways, such as coordinated dances in front of Lord Jagannath's chariot
"As we travel, we also want to help by doing service at temples along our route, whether it's cleaning, gardening, or doing kirtan," says Anasuya.
Of course, in addition there will be bonding group activities for the girls such as sight-seeing, swimming and visiting national parks.
While the tour will be DASI's main focus in the beginning, members are also making an effort to be more invested in their communities year round, by getting together and contributing in a variety of ways such as this Janmastami's rasa dance in Alachua.
As far as membership goes, for the first three years the group will consist of girls who have grown up together and can work through the kinks of starting an organization together. After that, once a routine has been established, founding members will take applications.
"We'll be looking for girls who fit well with us, are very enthusiastic about the project, and have a service they can provide – whether it's artistic like dance or music, or other skills like cooking or organization," says Anasuya.
DASI members hold a bake sale in Alachua
Similarly, for the first few years of DASI, members will be 18 to 25. However once the group is established, it will accept young women from 16 up, with a mentorship program between the younger and older girls.
Anasuya and her friends' drive is inspiring. Currently they're meeting every other week to plan, and holding bake sales to raise funds needed for their epic trip. The $4,000 required for gas, prasadam and emergency expenses, and $20,000 for a new van ensures that there's a lot of work ahead of them. So any help in the way of funds, baking for bake sales, or hosting them during their travels will be deeply appreciated.
With ISKCON Youth Ministry's famous bus tour now only running every few years, it's exciting to see young devotees taking up the mantle from Manorama and Jaya Sri Radhe, and creating their own programs that are sure to provide a strong foundation to many peers' spiritual lives.
"My dream for this project is that it will stay here for generations to come," Anasuya says. "We have so many talented youth in our community, and we want to create the opportunity for them to use their talents to give back to Srila Prabhupada. We also want to help girls in our worldwide community make new and deeper friendships, and deepen their relationship with Krishna."
* * *
DASI receives donations through PRIYA, the ISKCON youth group run by Manorama and Jaya Sri Radhe. To help financially, message DASI on Facebook for more details: https://www.facebook.com/DASItour/
Updates and photos will be posted regularly athttps://www.facebook.com/DASItour/and https://www.instagram.com/DASItour/
[
dasi
] [
women
] [
youth
]